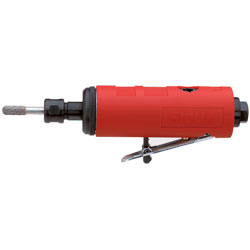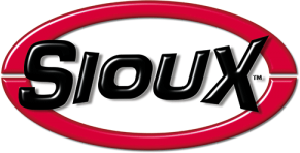 The SIOUX Medium Duty Die Grinder comes with the following features:
Lockoff lever throttle
Speed regulator
Rear exhaust
Aluminum housing
Air Consumption: 4.0 CFM (113 l/s) avg. 16.0 CFM (452 l/s) max.
Power: 0.5 HP (0.4 kw)
Free speed: 22,000 RPM
Collet size: 1/4"
Air inlet: 1/4" NPT
NPT: Acronym, National Pipe Taper. NPT is a North American thread standard. To meet NPT standards pipe or pipe fittings should be threaded per ANSI B1.20.1. NPT can also be referred to as MNPT, MPT and NPT(M) meaning the fitting has male threads or FNPT, FPT and NPT(F) for female threads. NPT fittings require thread sealant when installed.
| | |
| --- | --- |
| Air Consumption: | 4.0 cfm (113 l/s) avg. - 16.0 cfm (452 l/s) max. |
| Air Inlet: | 1/4 inch NPT |
| Collet Size: | 1/4 inch |
| Free Speed: | 22,000 RPM |
| Horsepower: | 0.5 hp |
| Housing Material: | Aluminum |