Breaker Hammer (Kit) - 69.1 lbs - 1-1/8" Hex - 15.0 amps / HM1812 Series
Product #:
MKTHM1812X1
Options: KIT with Cart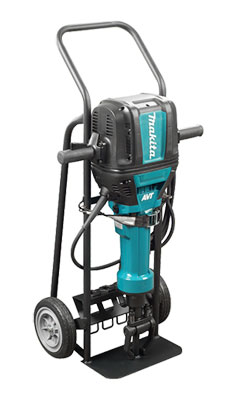 Call for availability.
Resources
An Online Tool Built for You
We've built an Online Tool with room to Grow & Expand. We have many unique time-saving tools built specifically for you. Read more about them in this article.
calfast.com/wiki/10-built...
The Makita 69.1 lb Breaker Hammer Kit is built to give super high impact energy while also the best vibration control in it's class.
---
Build
Has a soft start to help reduce start up shock, paired with AVT™ anti-vibration technology making this a more comfortable breaker hammer for the operator especially with only a 6.5 m/s² vibration level. Also, the recessed hand hold makes it easier to manover this 69.1 lb hammer and move it around.

Delivers 870 BPM with 72.8 J of impact energy to get through the toughest of demolition jobs.

LED light for indicating when the carbon brushes need servicing so you don't have to guess and also has an LED power light to immediately indicate that there is an active power supply.

The switch is built with dust protection and this tool can be used with an optional dust extraction attachment ( 197172-1) to make it completely dust free operation.


---
The following is included with the KIT - With Cart (HM1812X1) option:
1-1/8" Hex Shank Bull Point (B-45559)
1-1/8" Hex Shank Narrow Chisel (751220-A)
Hex Wrench 5 (783203-8)
Hammer Cart (T-02892)
---
The TOOL ONLY option is sold WITHOUT the cart (HM1812) and includes the following:
Hex Wrench 5 (783203-8)
1-1/8" Hex Shank Bull Point (B-45559)
---
| | |
| --- | --- |
| Amperage Measurement: | 15.0 amps at 120 V |
| BPM: | 870 BPM |
| Chuck Size: | 1-1/8 inch |
| Chuck Type: | Keyless |
| Impact Energy: | 72.8 J |
| Motor: | Brushed |
| Overall Length: | 33.25 inches |
| Vibration Reduction: | Included |
| Weight: | 69.1 lbs. |