Please Call for Special Orders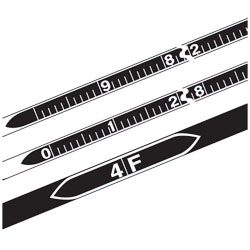 Please Call for Special Orders

The
Lufkin
Super Hi-Way® Nubian® tape refill has a nominal thickness of 0.017". The tape has easy-to-read raised graduations on the blade, and the lines have a blank space at each end with an extra foot before zero graduated from right to left to 10ths and 100ths. The balance is marked every foot except last foot of each 100' length. Reel required: 31300.
ENGR : Abbreviation, engineer. This abbreviation is primarily used in product names for efficiency.
SRVG: Abbreviation, surveying. The SRVG abbreviation is only used in the product name for efficiency.
| | |
| --- | --- |
| Blade Length: | 200 ft. |
| Blade Width: | 5/16 inch |