Product #:
WLT08-L 452
Arbor: 7/8"; DIA.: 4-1/2"; Thickness: 1/8"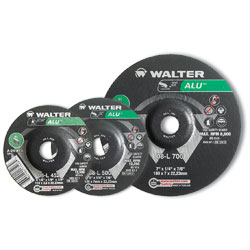 WALTER SURFACE TECHNOLOGIES - ALU™ Cutting wheels are built for cutting aluminum and non-ferrous metals.
---
Build
Made from superior quality abrasive grain, these wheels are highly resistant to wear and make cutting fast with less effort.

These wheels are free from wax or lubricants so cleaning the surface before welding or applying a surface coating is not necessary.

Will not clog or glaze.

Type 27 wheel shape has a depressed center, making it possible to cut in tight spaces without any interference from the flange or mounting hardware.
---
For use with angle grinders
Bonded Abrasives: A bonded abrasive is an assembly of abrasive grains bonded within a matrix to create a solid-like form.
Depressed Center Wheels: Depressed Center Wheels are similar to Type 1 (Cut-Off) wheels, but the center of the wheel (around the mounting hole) is pushed back (depressed). This depressed center it built to allow grinding on flat surfaces without interference from the flange or mounting hardware.
| | |
| --- | --- |
| Arbor: | 7/8 inch |
| Attachment Type: | Mounting Flange |
| Grain: | Aluminum Oxide |
| Thickness: | 1/8 inch |
| Type: | 27 |
No customer reviews for the moment.