Product #:
WLT15-L 853
Arbor: 5/8" - 11; DIA.: 5"; Grit: 36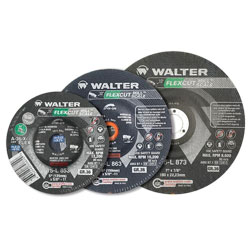 Ideal Uses
√

For use on Stainless Steel

√

For use on Steel

√

For use on Aluminum

√

For use on Non-Ferrous Metals

√

For use on Rusted Steel

√

Removing Mill Scale
WALTER SURFACE TECHNOLOGIES - FLEXCUT™ Grinding wheels are built for removing mill scale from flat, curved and uneven surfaces. Excellent for use on aluminum, non-ferrous, stainless steel and steel applications.
---
FLEXCUT™
Is a deep diamond-cut™ pattern that makes the wheel flexible to give the best handling and superior stock removal on flat, uneven and curved surfaces.

Build
Made from superior quality abrasive grain, these wheels provide cool, fast grinding.

Will not clog or glaze.

Grind at 15° to 25° for optimal performance.

Removes welds leaving a smooth surface and won't gouge surfaces.

Type 29S wheel shape is a spin-on version of the type 29 style wheel. It has a depressed center with a built in 5/8"-11 threaded arbor that reduces vibration and reduces the time spent on wheel change outs. Simply spin-on and spin-off disc with no other tools required. Guaranteed centered wheel everytime! Has a 10° conical shape that provides greater surface contact for aggressive material removal.
---
For use with angle grinders
Bonded Abrasives: A bonded abrasive is an assembly of abrasive grains fixed (or bonded) within a matrix to create a solid-like form.
Depressed Center Wheels: Depressed Center Wheels are similar to Type 1 (Cut-Off) wheels, but the center of the wheel (around the mounting hole) is pushed back (depressed). This depressed center it built to allow grinding on flat surfaces without interference from the flange or mounting hardware.
| | |
| --- | --- |
| Arbor: | 5/8 inch -11 |
| Attachment Type: | Spin-on |
| Grain: | Silicon Carbide |
| Type: | 29S |