Product #:
CBZ006012
DIA.: 3/8"; Length: 3/4"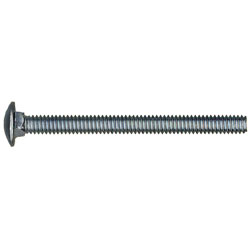 Round Head Carriage Bolt *GRADE 2
√ STEEL - FOR EXTRA STRENGTH
Length is measured under head to end

Zinc Chromate Plated
SAE J429
MEDIUM CARBON STEEL
THREAD CLASS 2A FIT

ANSI/ASME B18.5
Our Carriage Bolts Meet the requirements of ANSI/ASME, ASTM and / or AISI specifications
MINIMUM THREAD LENGTH
Up to 6" long: (2D + 1/4) Twice diameter plus 1/4 inch.
Over 6" long: (2D + 1/2) Twice diameter plus 1/2 inch.
*GRADE 5 ALSO AVAILABLE*
Unified Thread System: The Unified Thread System (or Unified Thread Standard - UTS) defines a standard thread form and series - along with allowances, tolerances, and designations - for screw and bolt threads commonly used in the United States and Canada.
Platings, Coatings & Finishes: There are a variety of coatings and platings that can be used in the prevention or delaying corrosion in fasteners. Platings and coatings can also enchance or change the physical look of nuts, bolts and washers for projects that require specific aesthetic care.
U.N.C.: Acronym, Unified National Coarse. The most common thread type of the Unified Thread System (U.N.C. - U.N.F. - U.N.S. - etc.), and is the preferred thread type for general purpose inch fasteners. Because of the coarse pitch, the threads are deeper than finde threads (U.N.F.) and are easier to assemble without cross threading.
SAE: Acronym, Society of Automotive Engineers. The SAE is a professional engineering society whose objectives are to develop and promote standards in the automotive, aerospace and commercial / heavy duty vehicle industries.
| | |
| --- | --- |
| Grade: | 2 |
| Material: | Medium Carbon Steel |
| Plating: | Zinc |
No customer reviews for the moment.