Product #:
JET720382
Gauge: #2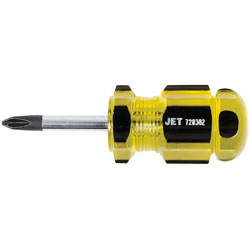 The
JET
Phillips, TORX® Jumbo Handle Screwdriver is built with a jumbo grip grooved handle that ensures maximum torque for tough jobs.
This screwdriver is made with
state-of-the-art super acetates
, which makes these handles virtually indestructible.
The shafts are made of the
highest quality Chrome Vanadium steel
for long life and maximum durability.
The
black hardened magnetic tips
eliminate chrome plating chipping off the tip (common on other brands), hold the screw into the screwdriver, and ensure maximum durability and life.
All items meet U.S. Specifications GGG-S-121E and Canadian Government specifications CDA39-GP-17C
TORX® is a registered trademark of Camcar Division of Textron Inc.