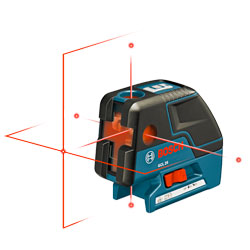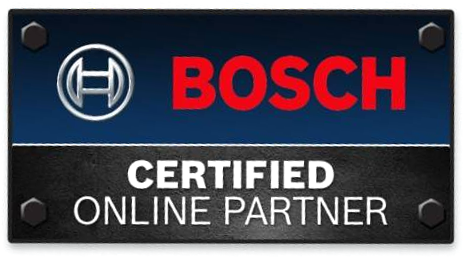 Ideal Uses
√

for Ceiling Installation

√

for Wall Building
The BOSCH 5-Point Self- Leveling Alignment Laser with Cross-Line Kit delivers two-in-one versatility for power users who perform a variety of tasks involving squaring, plumbing, and leveling. You no longer need two tools to square a room for walls or transfer points for ceiling installations!

The leveling laser has a smart pendulum leveling system that self-levels and indicates out-of-level, and it locks at any angle in manual mode, leaving your hands free to quickly complete layout.

The included positioning device (BM1) provides a Microfine Height Adjustment System for quick adjustment.

You have the selection of four modes: 5-point, horizontal line, vertical line, or cross-line modes.

There are highly visible laser points and lines for horizontal leveling, vertical alignment, squaring, layout, and plumb point transfer.

It has a plumb range of 15', a horizontal point range of 100' and a lines range of 30'.


---
The following is included with the kit:
Positioning Device for Line and Point Lasers (BM 1)
L-Boxx 2
Laser Target
Belt Pouch
(4) AA Batteries
| | |
| --- | --- |
| Battery Requirements: | 4 AA |
| Battery Voltage: | 1.5 V |
| Cross Line Accuracy at 30 ft.: | ± 1/8 inch |
| Laser Class: | Class 2 |
| Laser Diode: | 635 nm to 670 nm |
| Length: | 17.5 inches |
| Leveling Type: | Self-Leveling, Up to 4° |
| Material: | Durable plastic with overmold in key impact areas |
| Mount Threading: | 1/4 inch - 20 UNC & 5/8 inch - 10 UNC |
| Operating Temperature Range: | 14 degrees Fahrenheit to 22 degrees Fahrenheit |
| Point Accuracy at 30 ft.: | ± 1/4 inch |
| Range - With Cross Lines: | Up to 30 ft. |
| Range - With Horizontal Points: | 100 ft. |
| Range - With Plumb Points: | Up to 15 ft. |
| Weight: | 1.10 lbs. |