Product #:
3MCAB86715
Arbor: 7/8"; DIA.: 5"; Grit: 40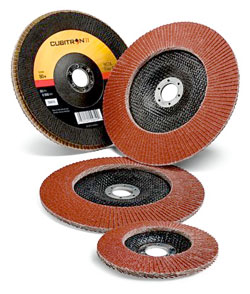 Ideal Uses
√

For Weld Removal

√

Right Angle Grinding

√

Edge Chamfering

√

Edge Beveling

√

Finishing Welds

√

Metal Stock Removal
The 3M™ Cubitron™ II Type 27 Flap Discs (967A) are built for low to medium-high pressure applications on flat surfaces or outside edgework, especially in paint prep and stainless steel fabrication where final finish and gouge resistance are important.
---
Precision Shaped Grain Technology
3M Precision Shaped Grain maintains super-sharp points that cut exceptionally fast with less pressure.
The disc runs cooler, reducing metal discoloration/oxidation and the chance of heat related stress cracks!
3M's Precision Shaped Grain is built with 3M's Ceramic Abrasive Grain and uses proprietary technology to form the grains into triangular structures and electrostatically orient them on the backing to form sharp peaks to maximize cutting potential.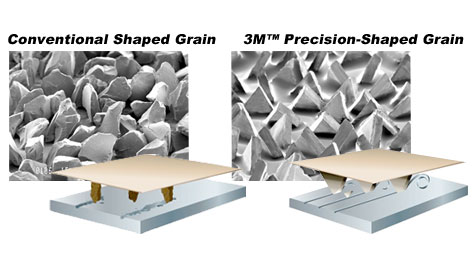 These triangular peaks slice cleanly through metal, rather than gouging or plowing as traditional abrasives do.
This process also allows the grain to continuously self-sharpen as the points break off.
3M™ Precision Shaped Grain awears evenly because the abrasive itself stays cooler and sharper.
Build
The superior performance and durability of 3M's Precision Shaped Grain is enhanced by a uniquely designed heavy Y-weight poly-cotton backing.
The Heavy Y-Weight poly-cotton backing enables controlled, even wear with no premature dulling or glazing, so operators can accomplish more throughput per disc.
Type 27 Flap discs run on right angle grinders for flat surfaces or outside edgework.

Coated Abrasives: A coated abrasive is an assembly of abrasive grains fixed with an adhesive to a backing material such as resin, rubber, polyester, paper, or cloth.
Flap Disc: A flap disc is a grinding and finishing abrasive with overlapping coated "flaps" bonded to a central hub. As these "flaps" wear away during use, new abrasive grains are exposed to extend the life of the disc.
| | |
| --- | --- |
| Arbor: | 7/8 inch |
| Backing: | Heavy Y-Weight Poly-Cotton |
| Grain: | Ceramic |
| Type: | 27 |