Please Call for Special Orders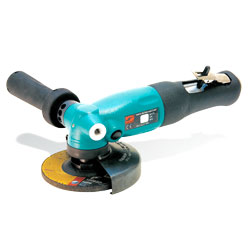 The following trades find this product useful:

Woodworking
Please Call for Special Orders
The Dynabrade Depressed Center Wheel Grinder has the following features:
1.3 HP
4-1/2" diameter, right angle
12,000 RPM
5/8"-11 spindle thread
"Wick Lube" System extends gear life
Tool accepts optional 4-1/2" diameter Type 27 Reinforced Depressed Center Wheels with 7/8" center hole
Includes wheel guard, backup flange and locking flange
NPT: Acronym, National Pipe Taper. NPT is a North American thread standard. To meet NPT standards pipe or pipe fittings should be threaded per ANSI B1.20.1. NPT can also be referred to as MNPT, MPT and NPT(M) meaning the fitting has male threads or FNPT, FPT and NPT(F) for female threads. NPT fittings require thread sealant when installed.
A few things you may need