Product #:
BSTGRL400HCK
Options: Kit w/ Receiver, Tripod and Grading Rod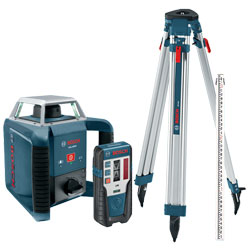 Ideal Uses
√

For Leveling and Layout Applications
The Bosch GRL 400 H Rotary Laser is built to provide a 360° horizontal beam for construction projects and grade excavation.
---
Build
This self-leveling laser level produces a 360° horizontal beam and has a working range of 1,300 feet.

Get up to 40 hours of battery life from 2x D cell batteries so you can work all day long without having to change batteries.

The laser has a glass enclosed cage head assembly that provides weather protection for use outdoors.

Robust construction with IP56 protection is great for both indoor and outdoor use.
---
Produces red laser beams!
---
Laser
Fast horizontal electronic self-leveling laser with disturbance monitor – ensures consistent leveling accuracy on the jobsite.

Get accuracy of up to ±3/32" at 100 ft. with this laser level.
---
The following is included in the Rotary Laser Complete Kit option (GRL400HCK):
(1) LR1 Laser Receiver and Bracket
(1) Tripod and 8 Ft Grade Rod
(1) Carrying Case
(2) D Batteries
---
The following is included in the Rotary Laser TOOL ONLY option (GRL400H):
(1) LR1 Laser Receiver and Bracket
(1) Carrying Case
(2) D Batteries
---
| | |
| --- | --- |
| Accuracy at 100 ft.: | ± 3/32 inch |
| Battery Requirements: | 2 D |
| Battery Voltage: | 1.5 V |
| Laser Class: | Class 2 |
| Laser Diode: | 635 nm |
| Leveling Type: | Self-Leveling, Up to 5° |
| Material: | Plastic with Overmold |
| Mount Threading: | 5/8 inch - 11 UNC |
| Operating Temperature Range: | -10°C - 50°C |
| Range - With Detector: | 1,300 feet |
| Weight: | 3.9 lbs |