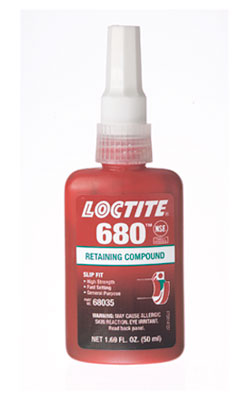 Call for Availability

Ideal Uses
√

Joining Fitted Cylindrical Parts
The
Loctite
680 High Strength/High Viscosity Retaining Compound - 50mL.
A high strength high viscosity room temperature curing adhesive used to join fitted cylindrical parts. Provides a shear strength up to 4000psi and fills diametral gaps up to 0.015".
Adhesive: A substance that is used for bonding materials together that is typically made from synthetic materials.