OLFA Black Snap-off Blade (Multi-Pack - 50pk)
25% sharper than silver LB blades - Fits most Heavy-Duty LB Utility Knives - 8 cutting edges per blade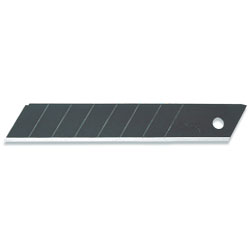 The OLFA Snap-off Blade (LBB-50B) is built with a long lasting durable carbon tool steel snap-off blade, which gives you a new sharp edge with each snap.

This 18mm blade fits most Heavy-Duty LB Utility Knives, and comes equipped with 8 cutting edges per blade. The knife has LBB UltraSharp black blades that are 25% sharper than silver LB blades.
No customer reviews for the moment.