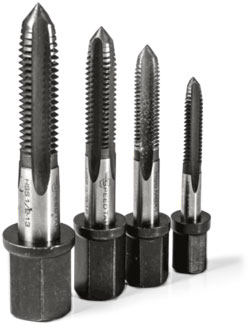 SpeedTaps™ 4pcs Taper Tap including 1/4", 5/16", 3/8" & 1/2" UNC taps built with a 60° Tapered Flute and high speed steel constructed to create female threads in hard to thread materials.
---
Build
These taps are built with a drive end that match bolt sizing and utilize all the advantages of common sockets and wrenches.

Tests on mild steel indicate tapping 100 holes or more while maintaining the same high quality thread.

Tap construction allows these taps to work in tight spaces that would normally be too close for working with traditional tap wrenches.
---
Tap threads up to 14x faster! SpeedTaps™ are highly durable and built for use with an impact wrench for optimal speed!
---
Capacities
SpeedTap
Max. Material Thickness
Socket Size
Drill Size
1/4"
3/16"
7/16"
#6
5/16"
1/4"
1/2"
G
3/8"
5/16"
9/16"
0
1/2"
3/8"
3/4"
7/16"
PLEASE NOTE: Use as a hand tap when using SpeedTaps™ in thicker material
How to Use
Use with IMPACT DRIVERS - RATCHET WRENCHES - COMBO WRENCHES
Tapping Oil is recommended to increase tool life
Based on independent test results, 200 consecutive holes can then be threaded
SpeedTaps™ have been engineered with changes to the heat treatment compared to most hand taps allowing them to take the impact from an impact wrench increasing productivity 14 to 1 over tapping by hand.
---
Tap Features
6 Thread Taper for Faster Starts
60° Tapered Point for Easy Alignment
Nitrate Coating for Extended Tap Life
Full-Size Shaft Maximizes Strength as well as ease of Reversal of the Tap
Head size matches bolt size for single tool operation of tapping bolting
Patent pending flared head construction reduces tangential force maximizing torque transfer
---
The following is included with this set:
(1) 1/4-20 Tap *SPDTPS1/4
(1) 5/16-18 Tap *SPDTPS5/16
(1) 3/8-16 Tap *SPDTPS3/8
(1) 1/2-13 Tap *SPDTPS1/2
Tap: A tap is built to cut a female thread on the inside surface of a hole.
Taper Tap: Cutting tools built with a pronounced taper towards the cutting edges. This helps the tap to ease into cutting female threads gradually.
| | |
| --- | --- |
| Material: | High Speed Steel (HSS) |
| Point: | 60 degrees |
| Shank Shape: | Hexigonal |
| Thread: | UNC |
| Flute Shape: | Tapered |
No customer reviews for the moment.