Cutting Wheels - Aluminum Oxide / Type 27 *ZIP STAINLESS™
Product #:
WLT11-F 152
Arbor: 7/8"; DIA.: 5"; Thickness: 3/64"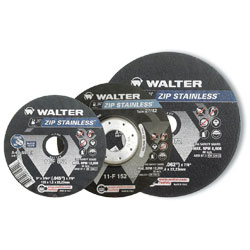 Ideal Uses
√

For use on Stainless Steel

√

For use on Nickel Alloys

√

Cutting Metal
Resources
An Online Tool Built for You
We've built an Online Tool with room to Grow & Expand. We have many unique time-saving tools built specifically for you. Read more about them in this article.
calfast.com/wiki/10-built...
WALTER SURFACE TECHNOLOGIES - ZIP STAINLESS™ Cutting wheels are built extra thin to cut all stainless steel.
---
Zip Stainless
These cutting wheels do not contain iron, sulphur or chlorine and therefor will not contaminate stainless steel or other nickel alloys.
Build
Made extra thin to be extra fast and provide a clean burr-free finish.

Has a metal hub cladding around hole in the center of the wheel to provide strength, control and safety.

Type 27 wheel shape has a depressed center, making it possible to cut without any interference from the flange or mounting hardware and provides clearance for flush cutting.
---
For use with zip cutters and angle grinders
Bonded Abrasives: A bonded abrasive is an assembly of abrasive grains fixed (or bonded) within a matrix to create a solid-like form.
| | |
| --- | --- |
| Arbor: | 7/8 inch |
| Attachment Type: | Mounting Flange |
| Grain: | Aluminum Oxide |
| Thickness: | 3/64 inch |
| Type: | 27 |