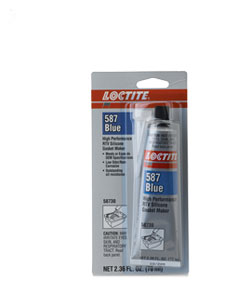 The Loctite 587 Blue High Performance RTV Silicone Gasket Maker - 70mL.

Forms tough, flexible gaskets directly on the flange. Offers excellent adhesion to oily surfaces. Low odor, noncorrosive, low volatility. Resistant to most chemicals and solvents. Withstands temperatures up to 500ÀöF intermittent. Fills gaps up to 0.25".
Thread Sealer: A liquid or paste that fills the voids between a fastener or fittings threads. This removes the air between the threads to create a better bond so the fastener or fitting stays securely in place. There are varying degrees of strength for thread sealers depending on how removable you want the fastener or fitting to be.
No customer reviews for the moment.