Product #:
CSMZC88650
DIA.: M5; Length: 50 mm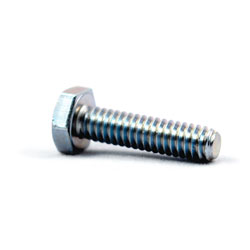 Call for availability.
Ideal Uses
√

Assembly into Tapped Holes

√

Manufacturing Assembly
Hexagonal Head Cap Screws - ISO METRIC *Property Class 8.8
MEDIUM CARBON STEEL - Quenched & Tempered
Bright Zinc Chromate Plated
Made to DIN 931
(Withdrawn & Replaced by ISO 4014 METRIC Specs)

~DIN EN ISO 4014
Partially Threaded

MINIMUM TENSILE STRENGTH (N/mm2)
M3 through M16 - 800 N/mm2
*for reference ONLY)
*for reference ONLY)
Platings, Coatings & Finishes: There are a variety of coatings and platings that can be used in the prevention or delaying corrosion in fasteners. Platings and coatings can also enchance or change the physical look of nuts, bolts and washers for projects that require specific aesthetic care.
ISO: Acronym, International Organization for Standardization. The ISO is a federation of national standard bodies of approximately 158 member countries.
DIN: Acronym, Deustches Institut für Normung. The Deutsches Institut für Normung (DIN) is a German Institute for Standardization. It is a technical and scientific association dedicated to the creation of technical rules and the promotion of their application.
U.N.C.: Acronym, Unified National Coarse. The most common thread type of the Unified Thread System (U.N.C. - U.N.F. - U.N.S. - etc.), and is the preferred thread type for general purpose inch fasteners. Because of the coarse pitch, the threads are deeper than finde threads (U.N.F.) and are easier to assemble without cross threading.
U.N.F. : Acronym, Unified National Fine. A thread type of the Unified Thread System (U.N.C. - U.N.F. - U.N.S. - etc.) that has a slightly higher breaking load capacity than U.N.C. (Unified National Coarse) threads. This higher breaking load capacity is a result of the more shallow thread depth and larger tensile stress area for fasteners of the same identical material and diameter. The smaller lead angle allows for fine adjustments where needed.
| | |
| --- | --- |
| Material: | Medium Carbon Steel |
| Pitch: | 1.00 |
| Plating: | Zinc |
No customer reviews for the moment.
A few things you may need