Grinding Wheel - Aluminum Oxide / Type 27S *HP™
Product #:
WLT08-B 450
Arbor: 5/8" - 11; DIA.: 4-1/2"; Thickness: 1/4"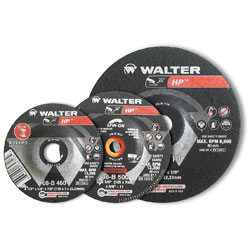 Ideal Uses
√

For use on Steel

√

For use on Cast Iron

√

Grinding Metal
Resources
An Online Tool Built for You
We've built an Online Tool with room to Grow & Expand. We have many unique time-saving tools built specifically for you. Read more about them in this article.
calfast.com/wiki/10-built...
WALTER SURFACE TECHNOLOGIES - HP™ High performance grinding wheels are built for general purpose grinding. Suitable for use on cast iron and steel applications. Also good for deburring, preparing weld edges and shaping metal.
---
Build
Made from superior quality abrasive grain, these wheels are highly resistant to wear and make weld grinding fast with less effort.

For use with angle grinders. Grind at 20° for optimal performance.

Type 27S wheel shape is a spin-on version of the type 27 style wheel. It has a depressed center with a built in 5/8"-11 threaded arbor that reduces vibration and reduces the time spent on wheel change outs. Simply spin-on and spin-off disc with no other tools required. Guaranteed centered wheel everytime!
---
Always use back flange WLT30-B 057 with these grinding wheels
Bonded Abrasives: A bonded abrasive is an assembly of abrasive grains fixed (or bonded) within a matrix to create a solid-like form.
| | |
| --- | --- |
| Arbor: | 5/8 inch -11 |
| Attachment Type: | Spin-on |
| Grain: | Aluminum Oxide |
| Thickness: | 1/4 inch |
| Type: | 27S |