Product #:
WLT08-F 460
Arbor: 7/8"; DIA.: 4-1/2"; Thickness: 1/4"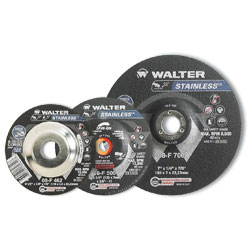 Ideal Uses
√

For use on Stainless Steel

√

Grinding Metal
WALTER SURFACE TECHNOLOGIES - STAINLESS Grinding wheels are built to not contaminate stainless steel.
---
Silcon Carbide Grain
Is an aggressively sharp grain, perfect for nickel alloyed steels, as it won't contaminate the metal.


Build
Excellent for grinding, these reinforced wheels resist bending and twisting and last a long time.

Provide exceptional handling and stay cool for the entire life of the wheel.

Type 27 wheel shape has a depressed center, making it possible to grind on the flat surface of the disc without any interference from the flange or mounting hardware and makes it easy for cutting in confined spaces.
---
For use with angle grinders
Bonded Abrasives: A bonded abrasive is an assembly of abrasive grains fixed (or bonded) within a matrix to create a solid-like form.
Depressed Center Wheels: Depressed Center Wheels are similar to Type 1 (Cut-Off) wheels, but the center of the wheel (around the mounting hole) is pushed back (depressed). This depressed center it built to allow grinding on flat surfaces without interference from the flange or mounting hardware.
| | |
| --- | --- |
| Arbor: | 7/8 inch |
| Attachment Type: | Mounting Flange |
| Grain: | Aluminum Oxide |
| Thickness: | 1/4 inch |
| Type: | 27 |