Product #:
WLT13-G 304
Arbor: 5/8" - 11; DIA.: 3"; Wire Guage: .020"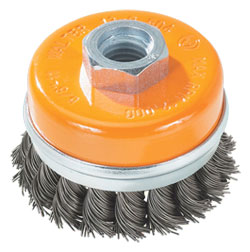 WALTER SURFACE TECHNOLOGIES - Knot-twisted wire cup brushes with ring are built for heavy-duty cleaning of large metal surfaces. Suitable for use on steel applications.
---
Build
These knot-twisted cup brushes have a safety support ring on them to help control flaring of the wires. Once the wire is worn down to this ring, the ring can be removed revealing more brush life.

Perfectly balanced giving smooth action when in use.

They only work the metal surface and don't remove any of the material, which is perfect for surface conditioning, only the tips of the wires come into contact with the metal. This action finishes and hardens the surface.

These brushes are perfect for flat surface brushing and cleaning rust, scale, welds and edges.

Orange hubs are for use on mild steel, blue is for stainless and aluminum.
---
For use with angle grinders
Wire Abrasives: Abrasives built with different gauges of metal wire in a variety of styles and are used to aggressively remove hard materials.
| | |
| --- | --- |
| Arbor: | 5/8 inch -11 |
| Thickness: | 1/2 inch |
| Wire Gauge: | 0.02 gauge |
| Wire Type: | Twist Knot with Ring |
No customer reviews for the moment.