Carriage Bolt 1/4" Diameter - 18.8 Stainless Steel
*ANSI/ASME B18.2.5 / 18.8 STAINLESS STEEL *Unified Standard Class 2A Fit.
Product #:
CBS188C004016
DIA.: 1/4"; Length: 1"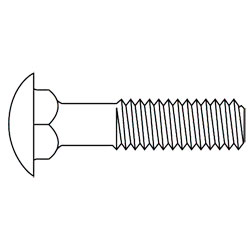 Round Head Carriage Bolt
STAINLESS STEEL
18-8
ASME/ANSI B18.2.5
ANSI/ASME B18.2.5
Our Carriage Bolts Meet the requirements of ANSI/ASME, ASTM and / or AISI specifications
MINIMUM THREAD LENGTH
Up to 6" long: (2D + 1/4) Twice diameter plus 1/4 inch.
Over 6" long: (2D + 1/2) Twice diameter plus 1/2 inch.
*GRADE 5 & 2 ALSO AVAILABLE*
U.N.C.: Acronym, Unified National Coarse. The most common thread type of the Unified Thread System (U.N.C. - U.N.F. - U.N.S. - etc.), and is the preferred thread type for general purpose inch fasteners. Because of the coarse pitch, the threads are deeper than finde threads (U.N.F.) and are easier to assemble without cross threading.
18-8 Stainless Steel: A corrosion resistant material for fasteners that contains approximately 18% chromium and 8% nickel. It provides excellent protection against rust and corrosion. 18-8 Stainless Steel may be mildly magnetic and is comparable to ASTM 300 Series and ISO A2.
Unified Thread System: The Unified Thread System (or Unified Thread Standard - UTS) defines a standard thread form and series - along with allowances, tolerances, and designations - for screw and bolt threads commonly used in the United States and Canada.
Stainless Steel: Stainless Steel is a strong steel alloy that resists corrosion, rust, and staining. There are a variety of grades of stainless steel that determine how much resistance it has to different types of environments.
| | |
| --- | --- |
| Vendor Part #: | 188C004016 |
| Grade: | 18-8 |
| Material: | Stainless Steel |
No customer reviews for the moment.