Tree Island Box Nail - Smooth Shank / Coated Steel (BULK)
BOX - *FLAT HEAD / DIAMOND POINT - PHOSPHATE COATED - FOR GENERAL INTERIOR & EXTERIOR CONSTRUCTION *ASTM F1667, A153 Class D, ASTM C514 - ISO 9001:2008 - Reduced splitting
Product #:
MCB112CB
Length: 1-1/2"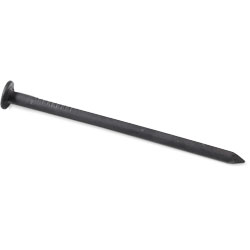 The Tree Island Phosphate Coated Box Nails are built for light-duty interior and exterior construction applications.

They are slightly thinner than common nails which help stop these nails from splitting soft woods.
---
PHOSPHATE COATED STEEL (Chemically Etched)
TEMPORARY CORROSION RESISTANCE
*BOX OF NAILS


CERTIFICATIONS
ASTM F1667
ASTM A153 Class D
ASTM C514
ISO 9001
BEND YIELD (PSI)
9-1/2 to 7 gauged wire >90,000 PSI
< 9-1/2 gauged wire >100,000 PSI
PENNY WEIGHT / GAUGE RANGES
2d - 40d (1-1/4" - 5") / 15-1/2 - 8
Phosphate Coated: Nails that have a thin coating of zinc phosphate on the surface that provides some corrosion resistance but it's primary purpose is to add pull out resistance making it harder for these nails to be removed.
Penny Weight: Was a system for pricing 100 nails in 15th century England. The larger the nail the heavier it was causing it to cost more. Penny weight then incorrectly became used to describe the length of the nail rather than the weight. The Latin word "Denarius" roughly translated to the word penny so "d" became the way to indicate penny weight. Each increase in penny weight (1d, 2d, 3d etc) is assumed to be an increase in size. It is best to measure a nail by its actual length and diameter.
| | |
| --- | --- |
| Vendor Part #: | 112CB |
| Collation: | Individual |
| Finish: | Phosphate |
| Head Type: | Flat |
| Material: | Steel |
| Point Type: | Diamond |
| Shank Type: | Smooth |
| Style: | Box |
No customer reviews for the moment.
A few things you may need