3M Adhesive - 2 Part Epoxy - Grey - Can / 2216 Series *SCOTCH-WELD
Two Parts - 90 Min Work Time @ 23°C - 2:3 Ratio - 12 Hr Handling Strength - Flexible - High Peel & Shear Strength - For bonding metals, woods, plastics, rubbers, and masonry
Product #:
3MA2216B/AGAL
CONTR Size: Gallon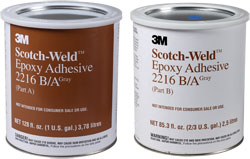 Please Call for Special Orders

Ideal Uses
√

Bonding Metals, Woods, Plastics, Rubbers and Masonry
The 3M Scotch-Weld 2 Part Epoxy #2216 is built to bond metals, woods, plastics, rubbers and masonry products.
---
Build
This epoxy is excellent for cryogenics and where flexibility from extreme shock and vibrations can cause bond failure.

The base and accelerator are two different colors so they are easy to differentiate and determine if mixing has been thorough enough.

Mix at a 2:3 ratio by volume or a 5:7 ratio by weight.

This product has excellent holding power after long periods of time and under different environmental conditions.

Cures in the air for 7 days @ 25°C and requires pressure during the curing process.
---
Get up to 320 sq ft coverage per gallon at a 0.005" thick spread!
---
Safety
Wear proper PPE such as gloves, coveralls, face protection and hair protection.
Capacities
Bondable Materials
| | | | | |
| --- | --- | --- | --- | --- |
| Metals | Woods | Plastics | Rubbers | Masonry |
How to Use
For the highest strength bond, the surfaces should be extremely clean
Mix thoroughly by weight or volume in the proportions stated
Mix for another 15 seconds after there is a consistent color throughout the epoxy
Use a spatula, trowel or flow equipment to apply this epoxy
Apply an even amount to both surfaces for the best bond possible
There is a 90-minute open time to connect materials and align them before the curing process starts @ 23°C
Cure between 16°C and 93°C for best results. At 25°C it will take 7 days to cure fully whereas at 93°C it only takes 30 minutes.
Clean-Up and Storage
Any uncured epoxy can be cleaned with any ketone type solvent.

Store both components at 16 - 27°C for a maximum storage life of 2 years from being shipped from 3M.


Certifications, Standards, and Regulations
DOD-A-82720
ASTM D 1002
ISO 9001:2000
---
Acrylic and Epoxy Adhesives: Two part adhesives that provide excellent bonding strength and durability. Acrylic cures fast, can be applied on oily or unprepared surfaces and bonds to nearly all types of plastics, unlike epoxies.
No customer reviews for the moment.