Robertson Flat 4 Lug Head #8 Robertson Decking Screws / Green Magnigard (JUG)
Robertson® (square) Drive Screws with Lo-Root® threads (includes 2/3 ASTER® thread feature) - Green Magnigard® Finish with a Flat 4 Lug Head; #8 (Gauge) - JUG
---
Robertson® (square) Drive Screws with Lo-Root® threads (includes 2/3 ASTER® thread feature) - Green Magnigard® Finish with a Flat 4 Lug Head; #8 (Gauge) - JUG
Product #:
WSJ8020FRGREEN
Shipping calculation is unavailable at this time. Please call 403-287-5340 or chat with us for a quote.
Options:
Gauge: #8; Length: 1-1/4"
---
Login for contractor price
---
WSJ8024FRGREEN
#8,
1-1/2"
, InStock
WSJ8028FRGREEN
#8,
1-3/4"
, InStock
WSJ8032FRGREEN
#8,
2"
, InStock
WSJ8040FRGREEN
#8,
2-1/2"
, InStock
WSJ8048FRGREEN
#8,
3"
, InStock
WSJ8020FRGREEN
#8,
1-1/4"
, InStock
---
Available Online:

15
Pre Order Item
Estimated Availability Date:
---
Call for Availability
---
QTY:
---
ADD TO CART
BUY DIRECT
WSJ8024FRGREEN
#8,
1-1/2"
WSJ8028FRGREEN
#8,
1-3/4"
WSJ8040FRGREEN
#8,
2-1/2"
WSJ8020FRGREEN
#8,
1-1/4"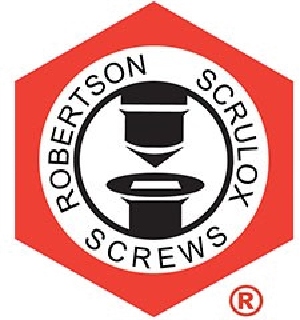 Robertson Inc., is a global supplier of standard and specialty fasteners with locations throughout the world.
No customer reviews for the moment.
JUG of Robertson® (square) Drive Screws with Lo-Root® threads
includes 2/3 ASTER® thread feature
Green Magnigard® Finish with a Flat 4 Lug head.

Wood screws are useful when it's unacceptable that the fastener extends above the bearing surface.

Wood screws are threaded at least two-thirds of their length and have a sharp point for boring into wood.

PLEASE NOTE: If you want to prevent splitting, you should drill a starter hole slightly smaller than the screw, and for flat and oval head screws, make sure you use a countersink.
Flat Head: A flat head has a flat top with a countersunk bearing surface. It's available with 4 lugs to assist with countersinking, and useful for general purpose construction.
Lo-Root® Thread: The Lo-Root® thread has a single lead deep thread with a wide spacing for superior holding in softwoods and particle boards.
Serrated (ASTER®) Thread Pattern: A serrated pattern on the point and threads of a screw. These serrations help the screw start quicker, reduces splitting, and requires less torque.
Decking Screw: A decking screw is a specialized fastener designed to resist corrosion from adverse outdoor environmental conditions.
| | |
| --- | --- |
| Vendor Part #: | 8020FRGREEN |
| Screw Drive Type: | Robertson® (Square) |
| Finish: | Green Magnigard® |
| Head Feature: | 4 Lug |
| Head Type: | Flat |
| Material: | Steel |
| Thread Count: | 24 |
| Thread Feature: | 2/3 aster® |
| Thread Type: | Lo-Root® |
| Type: | Decking Screw |
√

for Deck Building

√

for Joining two or more objects together

√

in Pressure treated wood