Robertson Flat Head #12 Robertson Wood Screws / Zinc (PKG)
Robertson® (square) Drive Screws with 2/3 Kwixin® threads (includes 2/3 ASTER® thread feature) - Zinc Finish with a Flat Head; #12 (Gauge) - PACKAGED
Product #:
WSP12016FRZ
Gauge: #12; Length: 1"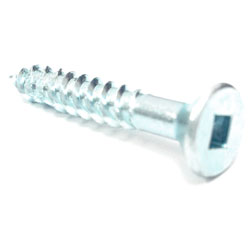 The following trades find this product useful:

Woodworking
PACKAGED Robertson® (square) Drive with 2/3 Kwixin® threads
includes 2/3 ASTER® thread feature
Zinc Finish with a Flat head.

Wood screws are useful when it's unacceptable that the fastener extends above the bearing surface.

Wood screws are threaded at least two-thirds of their length and have a sharp point for boring into wood.

PLEASE NOTE: If you want to prevent splitting, you should drill a starter hole slightly smaller than the screw, and for flat and oval head screws, make sure you use a countersink.
Flat Head: A flat head has a flat top with a countersunk bearing surface. It's available with 4 lugs to assist with countersinking, and useful for general purpose construction.
Serrated (ASTER®) Thread Pattern: A serrated pattern on the point and threads of a screw. These serrations help the screw start quicker, reduces splitting, and requires less torque.
KWIXIN®: A KWIXIN® thread creates a stronger screw with twin lead threads for faster drive times; they're ideally used in hard woods.
Machine Screw: A machine screw is a fastener similar to a bolts that has been built with a screw drive in the head, which allows the screw to be turned with a screwdriver.
| | |
| --- | --- |
| Vendor Part #: | 12016FRZ |
| Screw Drive Type: | Robertson® (Square) |
| Finish: | Zinc |
| Head Type: | Flat |
| Material: | Steel |
| Thread Count: | 12 |
| Thread Feature: | 2/3 aster® |
| Thread Type: | KWIXIN® |
| Type: | Wood Screw |
No customer reviews for the moment.