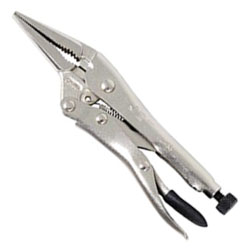 The
JET
Long Nose Locking Pliers are specially built by
JET
for peak performance.
JET
has developed an unmatched range of tools and equipment!
Over its 60 year history,
JET
has expanded with loyal customers from coast to coast. This has earned
JET
a position as a leading brand of industrial and automotive tools and equipment in Canada. Their inventory line up of over 7,500 products is what sets them apart from the completion.
JET
prides itself on its dedicated leadership, passionate employees and a commitment to superior customer service.
The pliers are made of
Chrome Molybdenum steel>, and are built with a strong locking mechanism.
Pliers: Pliers (or pincers) are built with a flat and usually serrated gripping surface. Pliers are versatile handheld tools mostly used for holding small objects or bending or cutting wire.
Long Nose Pliers: Long nose (or needle-nose) pliers are handheld tools built with both a cutting edge and a long narrowing holding surface. These pliers are ideal for work in more precise situations, such as electrical wiring.
No customer reviews for the moment.