Grip Rite Standard Nail - Spiral Shank / Hot Dipped Galvanized Steel (BULK)
BOX - *FLAT HEAD / DIAMOND POINT - FOR SECURING LARGE DIMENSIONAL LUMBER - 50% to 200% More Holding Power than Common Nails
Product #:
MCBI314HDG1BOX
Length: 3-1/4"; Quantity Breaks: ONE+ (1+) BOX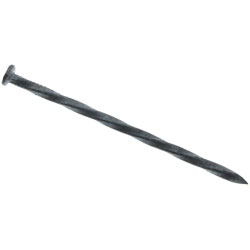 The Grip Right Hot Dipped Galvanized Steel Spiral Standard (Ardox) Spike Nail is built for general construction applications.
It provides up to 200% more holding power than common nails, are made to withstand shock loads, and are resistant to loosening from vibrations.
This nails is also good for use with materials that will shrink.
---
HOT DIPPED GALVANIZED STEEL (Dipped in Molten Zinc)
HIGH CORROSION RESISTANCE
*BOX OF NAILS
Hot Dipped Galvanized: Is a tough, weather resistant coating applied to steel by dipping the steel in a molten zinc-iron bath. This stops the steel under the coating from coming into contact with water that can rust and corrode it. This coating is both a barrier coating and a sacrificial coating. Excellent for use in outdoor environments and with pressure treated wood. This coating gives a high level of corrosion resistance.
Penny Weight: Was a system for pricing 100 nails in 15th century England. The larger the nail the heavier it was causing it to cost more. Penny weight then incorrectly became used to describe the length of the nail rather than the weight. The Latin word "Denarius" roughly translated to the word penny so "d" became the way to indicate penny weight. Each increase in penny weight (1d, 2d, 3d etc) is assumed to be an increase in size. It is best to measure a nail by its actual length and diameter.
| | |
| --- | --- |
| Vendor Part #: | I212HDG1BOX |
| Collation: | Individual |
| Finish: | Hot-Dip Galvanized |
| Head Type: | Flat |
| Material: | Steel |
| Point Type: | Diamond |
| Shank Type: | Spiral |
| Style: | Spiral Standard (Ardox) |
No customer reviews for the moment.