Klingspor Abrasives Sand Paper - Silicon Carbide - 9" x 11" / PS11 Series (5 Pack)
Product #:
ENGP911-PS11240
Grit: 240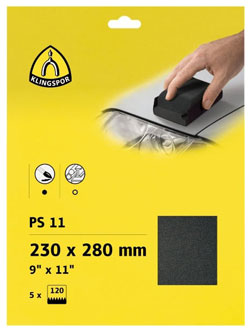 The Klingspor Aluminum Oxide PL31 9" x 11" Sand Paper is built for the processing of paint, varnish, filler, plastic, glass, stone, and metals.
---
Build
The very hard and less tough silicon carbide is built with a crystalline, sharp-edged, brittle, highly friable grain that provides micro-wear and a very fine surface scratch pattern.

The grain adheres to a high-quality C paper backing with resin for long life, durability and for use both wet and dry.

The paper has a closed coating of abrasive grains, which provides high stock removal and a long service life of the abrasive.
---
Excellent for wet and dry sanding!
---
Suitable Materials for Sanding
Paint
Varnish
Filler
Stone
Glass
Plastics
Metals
Storage
Store at room temperature and away from high heat for longest shelf life.
Coated Abrasives: A coated abrasive is an assembly of abrasive grains fixed with an adhesive to a backing material such as resin, rubber, polyester, paper, or cloth.
Abrasive Sheets (Sandpaper): A piece of either paper, film, nylon or cloth that is coated with a grain and bonding agent. They can be used to sand a wide variety of materials either by hand or power tool. Some can be used in wet applications.
| | |
| --- | --- |
| Vendor Part #: | P911-PS11120 |
| Backing: | C weight paper |
| Bonding Method: | Glue |
| Color: | Black |
| Grain: | Silicon Carbide |
| Length: | 11 inches |
| Width: | 9 inches |
| Use: | Wet or Dry |
No customer reviews for the moment.