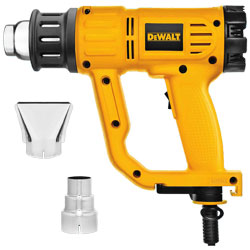 Call for Availability

The DeWalt Electric Heat Gun is built to provide variable heat for a wide variety of applications.
---
Build
Built to deliver heat where you need it most by itself or with its cone or fishtail surface nozzle options.

This tool has built-in overload protection that shuts off the heating element and prevents burn up and variable temperature control which allows for adjustment of the heat settings.

Made with separate internal components which allows for maintenance on both the motor and the heating elements.

Comes with a kickstand for support, a hang ring for convenient storage, a cord protector to keep the cord from pulling out of the housing, and an ergonomic grip for extra comfort and control.
---
Heat ranges from 48°C to 594°C!
---
The following is included with this heat gun:
(1) Heat Gun (D26950)
(1) Cone Nozzle
(1) Fishtail Surface Nozzle
Heat Guns for Autobody Repair: Aluminum vehicle frames should never be exposed to an open flame. Heat Guns provide the required temperatures to dismantle and repair automotive parts. With a Heat Gun users can loosen joint adhesives and thus allowing them to be separated.
Heat Guns for Applying Shrink Tubing: Using the 9mm, 14 mm, 39 mm or the 75 mm reflector nozzles at temperature range of 350 - 500˚F (175 - 250˚C) shrink tubes and solder connector can easily be applied.
Heat Guns for Bending Plastics: Heat Guns are built to, bend and soften pipes / rods without burning the material. Plastic sheets for making containers are worked at 325°F to 425°F depending on the material type. Folded edges are created by heating the work piece with a surface nozzle.
| | |
| --- | --- |
| Amperage Measurement: | 13.0 amps at 120 V |
| Color: | Yellow / Black |
| Cord Length: | 10 ft. |
| Motor: | Brushed |
| Operating Temperature Range: | 48°C to 594°C |
| Watts: | 1550 W |
| Weight: | 2.1 lbs |
No customer reviews for the moment.