Dynamic Safety Plastic Eye Wash Station - Security Cap - Saline / FAEWS1714F
Product #:
DSIFAEWS1714F
CONTR Size: 1 L; Options: Single Bottle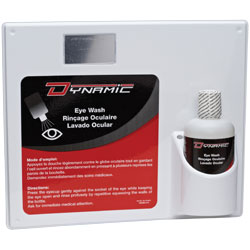 Call for availability.

Ideal Uses
√

Flush Contaminates from Eyes, Face and Body
The Dynamic Eye Wash Station with Full Bottle is built to be conveniently hung on a wall for easy access.
---
Build
This eyewash station is made from durable plastic, has a mirror for helping to see if eyes are clean, and a storage holder for an eyewash bottle.

Dynamic eyewash solution is an approved drug by the FDA used for cleansing the eye to help irritation or burning by removing loose foreign material.

This drug product is considered exempt from SDS as it does not fall under the definition of "Hazardous Product" as per regulations - 2012 OSHA Hazard Communication Standard (29 CFR 1910.1200)

For single use only.
---
Helps to prevent bodily damage immediately after an accident!
No customer reviews for the moment.