GREX Power Tools Headless Pinner - 23 ga - 2" / P650L
PNEUMATIC - Introducing the P650L with Auto Lock-Out and 2" fastener capability.
---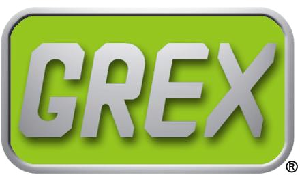 GREX POWER TOOLS is a quickly expanding provider of specialized state-of the art professional fastening systems, pneumatic powered hand tools and precision metal working tools with systems and solutions for the professionals as well as the DIY markets.
No customer reviews for the moment.
The GREX Headless Pinner (P650L) is the perfect tool if you're investing in a better built, longer lasting, more powerful tool with the best considered set of features and ergonomics. It's the same award-winning robust build quality that users have trusted in GREX tools for over 10 years. And every new GREX pinner adds innovations that enable you to do more, easier and faster.

The headless pinner offers GREX's new automatic lock-out and 2" fastener capability. Adding the "L" (Auto Lock-Out) to the GREX P650L means less rework, less down time, and less tool and project damage. You can now drive longer fasteners and prevent dry-firing with the same great quality and features expected from GREX.

We added the automatic lock-out for those difficult, more critical jobs such as overhead crown molding. Dry-firing can cause damage to the tool and might cause damage to an expensive project. To prevent dry-firing, the automatic lock-out locks the GREX P650L with approximately 6-8 pins remaining in the magazine. The automatic lock-out over-ride button overrides the lockout allowing use of the remaining pins to tack a project-piece in place freeing the operator to reload.

The high tolerance precision machined hardened steel driver, Posit-Lock™ nose cover and nose guide assembly aligns and seats the headless pin for optimal drive performance. What is Posit-Lock™? It's tight tolerance, durability and functionality that reduces jams to a minimum.

The P6 Series comes in seven different designs: P630, P635, P645, P645L, P650, P650L, and the P650LX.

The following are features of this tool:
Auto Lock-Out prevents dry-firing and project damage
Auto Lock-Out over-ride button allows use of the remaining pins
Drives 23-gauge headless pins ranging from 1/2" to 2" in length
Patented magazine self-adjusts for 13 different fastener lengths
Narrow nose design for access to more tight areas and angles
Powerful motor to drive fasteners into hardwood
Lightweight aluminum body designed for mobility and all day continuous use
Precision machined and aluminum cylinder and piston valve
Drop-in fastener loading for quick and easy re-loading
Fastener indicator window shows pin supply; alerting operator to reload
Double trigger safety lock prevents accidental firing
Posit-Lock™ nose cover for tight tolerance and access to the pin chamber
Swivel air coupler helps keep air hose tangle-free
Rear exhaust with silencer reduces noise and directs exhaust air away
Belt hook keeps your GREX tool at your side (left or right mounted)
No-mar rubber tip prevents marring of work surface
No-mar guidelines for accurate pinning
Rear magazine cap with hex wrench and spare no-mar tip storage
Rubber handgrip for a firm comfortable grip
Pinners / Headless Nailers: Power tools built to shoot small headless nails/pins into softwoods and MDF. Pinners can also be referred to as headless nailers.
| | |
| --- | --- |
| Vendor Part #: | P650L |
| Air Inlet: | 1/4 inch NPT |
| Fastener Capacity: | 1 strip (approx. 100 pins) |
| Fastener Range: | 1/2 inch ~ 2 inches |
| Fastener Type: | 23 gauge Headless Pins |
| Height: | 8.75 inches |
| Length: | 7.75 inches |
| Operating Pressure: | 60 psi - 110 psi |
| Weight: | 2.68 lbs. |
| Width: | 1.5 inches |
√

Craft Work

√

Rattan Furniture

√

Overhead Applications

√

Molding & Decorative Trim

√

Mirror & Picture Frame Assembly

√

Lightweight Panelling

√

Light Wood Assembly

√

Glazing Strips

√

Finish & Trim Work

√

External Softwood Trim

√

Dowel & Joint Pinning

√

Display & Sign Work

√

Window Beading
A few things you may need