Product #:
TYR34239191
Arbor: 7/8"; DIA.: 4-1/2"; Grit: 40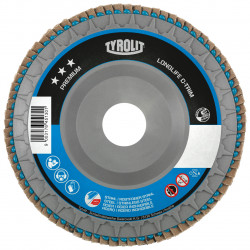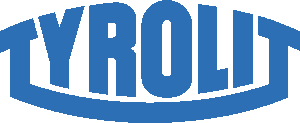 Ideal Uses
√

Grinding Carbon Steel

√

for Grinding Stainless Steel

√

Smoothing of Welded Seams

√

Surface grinding applications
The Tyrolit LONGLIFE C-TRIM Flap Discs are built to be used on high alloyed steels and stainless steel, as well as on unalloyed and low alloyed steels.
The PREMIUM*** LONGLIFE C-TRIM provides an excellent stock removal rate and 100% use of the disc through trimming with consistent results.
Problem-free weld-seam as well as edge and surface grinding, particularly when used on powerful angle grinders.

Thanks to its compact design, a long lifetime is guaranteed during deburring of sharp edges on thin sheets.
---
Trimming flap discs
When grinding with flap discs the optimum angle between the wheel and the workpiece is 15-25°. This means that the abrasive wears off more at the edge than near the bore. That's why very often 50% of the disc cannot be used properly.

By trimming your product you can reduce the backing diameter, thus achieving 100% use of the disc. Importantly, the backing must be suitable for this kind of application.

Please Note: You can trim the backing only as far as the end of the depression.


Two possibilities
During the processing of fillet welds, you can grind and trim at the same time. During contact with the workpiece the backing will be trimmed automatically.
When processing surfaces or edges, you also have the option to trim the backing using the edge of the workpiece. Simply make contact with the edge of the workpiece while the disc is running and trim the backing.
Coated Abrasives: A coated abrasive is an assembly of abrasive grains fixed with an adhesive to a backing material such as resin, rubber, polyester, paper, or cloth.
Flap Disc: A flap disc is a grinding and finishing abrasive with overlapping coated "flaps" bonded to a central hub. As these "flaps" wear away during use, new abrasive grains are exposed to extend the life of the disc.
| | |
| --- | --- |
| Arbor: | 7/8 inch |
| Backing: | Plastic |
| Grain: | Zirconium |
| Type: | Type 27 |