Product #:
WLT06-B 454
Arbor: 5/8" - 11; DIA.: 4-1/2"; Grit: 40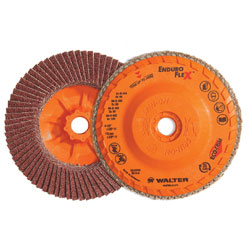 Walter Surface Technologies ENDURO-FLEX™ Flap discs are built to be the longest lasting one-step weld removal and finishing discs available. Use on stainless steel and steel applications. Trim the backing made from plant fibers, up to three times, restoring the flap disc to like new quality.
---
Self-Sharpening Zirconium Grains
Make it possible to remove welds, grind and finish all in one step.


Build
ENDURO-FLEX™ Flap discs remove material faster and stay sharper longer due to their reformulated and self-sharpening zirconium grain embedded flaps.

ECO-TRIM™ backing is made from natural and sustainable plant fibers. It gives you the option to trim the diameter of the backing up to 3x when the flaps are worn down, giving extended life to the disc, while being cost effective and environmentally friendly. Backing can also be trimmed to work in corners.

Self-lubricating coating on disc flaps provides both smooth, vibration-free handling and keeps the disc cool. This special topcoat also avoids discoloration of the work surface, giving a more consistent finish and stops the flaps from loading or glazing.

Type 27S disc shape is a spin-on version of the type 27 style disc. It has a depressed center with a built in 5/8"-11 threaded arbor that reduces vibration and reduces the time spent on wheel change outs. Simply spin-on and spin-off disc with no other tools required guaranteeing a centered disc every time. Using the disc between 4° to 10°, offers maximum contact area, creating a smooth professional quality finish. Ideal for use on flat surfaces and outside edges.
---
Always use back flange WLT30-B 017 with these flap discs
Coated Abrasives: A coated abrasive is an assembly of abrasive grains fixed with an adhesive to a backing material such as resin, rubber, polyester, paper, or cloth.
Flap Disc: A flap disc is a disc that is built with overlapping layers of abrasive sheets that are bonded to a central hub. As these "flaps" wear away during use, new abrasive grains are exposed to extend the life of the disc.
| | |
| --- | --- |
| Arbor: | 5/8 inch -11 |
| Attachment Type: | Spin-on |
| Backing Material: | Natural Plant Fibers |
| Grain: | Zirconium |
| Trimmable: | Yes |
| Type: | 27S |
No customer reviews for the moment.