Hex Head Lag Screws 5/16" Dia. - Grade 2 / Zinc
GRADE "2" LAG BOLT (or screw) / Low or Medium Carbon Steel - *Bright Zinc Chromate Plated - Built for wood construction and heavy load applications.
Product #:
LSZ005072
DIA.: 5/16"; Length: 4-1/2"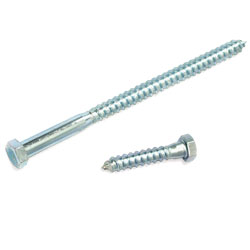 Hexagonal Head Lag Screws (or Lag Bolts) - *GRADE "2"
√ STEEL - FOR EXTRA STRENGTH

Bright Zinc Chromate Plated
ASTM A307 / ASME B18.2.1
LOW OR MEDIUM CARBON STEEL
Made to the dimensional requirements of I.F.I. Standard Hex.
For use in wood construction and heavier load applications that traditional wood screws can't support.
MINIMUM TENSILE STRENGTH (PSI)
PROOF LOAD (PSI)
NOMINAL SIZES
Platings, Coatings & Finishes: There are a variety of coatings and platings that can be used in the prevention or delaying corrosion in fasteners. Platings and coatings can also enchance or change the physical look of nuts, bolts and washers for projects that require specific aesthetic care.
ASTM: Acronym, American Society for Testing and Materials (name officially changed to "ASTM International" in 2001). ASTM is an international standards organization that develops and publishes voluntary consensus technical standards for a wide range of materials, products, systems, and services.
Zinc Plating: The most common and economical coating for fasteners. It provides corrosion resistance and can be applied by electroplating or mechanically.
| | |
| --- | --- |
| Vendor Part #: | 005016 |
| Grade: | 2 |
| Head Type: | I.F.I. Standard Hex |
| Material: | Low or Medium Carbon Steel |
| Plating: | Zinc |
| Proof Load: | 33000 psi |
| Tensile Strength (minimum): | 60000 psi |
| Wrench Size: | 1/2 inch |
No customer reviews for the moment.