Brighton-Best Hex Socket Cap Screws 1/4" Diameter - 18.8 Stainless Steel
Hexagon Socket Head Cap Screws *1960 Series / 18.8 STAINLESS STEEL Corrosion Resistant - Unified 3A Thread Fit *UNC Coarse Thread
Product #:
SCS188C004040
DIA.: 1/4"; Length: 2-1/2"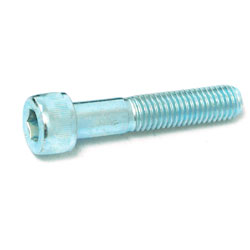 The following trades find this product useful:

M.R.O.
Hexagon
Socket
Head Cap Screws
High-Strength Tension Fasteners
18.8 STAINLESS STEEL
Corrosion Resistant
1960 Series
ASME/ANSI B18.3 & ASTM A837
Our 18.8 Stainless Steel Products Meet the requirements of ANSI/ASME, ASTM and / or AISI specifications
Unified 3A Thread Fit
UNC Coarse Thread
Hexagon Socket Cap Screws (B18.3, 1960)
MINIMUM TENSILE STRENGTH (PSI)
Up to 1" dia. inclusive 95,000 PSI
NOMINAL SIZES (Standard)
U.N.C.: Acronym, Unified National Coarse. The most common thread type of the Unified Thread System (U.N.C. - U.N.F. - U.N.S. - etc.), and is the preferred thread type for general purpose inch fasteners. Because of the coarse pitch, the threads are deeper than finde threads (U.N.F.) and are easier to assemble without cross threading.
U.N.F. : Acronym, Unified National Fine. A thread type of the Unified Thread System (U.N.C. - U.N.F. - U.N.S. - etc.) that has a slightly higher breaking load capacity than U.N.C. (Unified National Coarse) threads. This higher breaking load capacity is a result of the more shallow thread depth and larger tensile stress area for fasteners of the same identical material and diameter. The smaller lead angle allows for fine adjustments where needed.
18-8 Stainless Steel: A corrosion resistant material for fasteners that contains approximately 18% chromium and 8% nickel. It provides excellent protection against rust and corrosion. 18-8 Stainless Steel may be mildly magnetic and is comparable to ASTM 300 Series and ISO A2.
Unified Thread System: The Unified Thread System (or Unified Thread Standard - UTS) defines a standard thread form and series - along with allowances, tolerances, and designations - for screw and bolt threads commonly used in the United States and Canada.
ASTM: Acronym, American Society for Testing and Materials (name officially changed to "ASTM International" in 2001). ASTM is an international standards organization that develops and publishes voluntary consensus technical standards for a wide range of materials, products, systems, and services.
| | |
| --- | --- |
| Vendor Part #: | 188C004008 |
| Material: | 18-8 stainless steel |
No customer reviews for the moment.
A few things you may need