Product #:
FVWQDARON4-4M
MPT: 1/4"; Nipple: 1/4"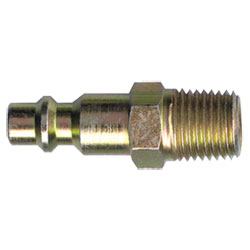 INDUSTRIAL Push-to-Connect Nipples are built to connect to QD-INDM & Universal Series Couplers with a Quick and simple One-Hand operation.
---
Build
Brass Fittings are Built for Unlimited Reusability!

*Use these fittings in many different combinations.
---
Assembly
Apply thread sealant compound or tape.
(if using tape) Wind the sealant tape in the direction of the threads.
Do NOT tape the first 2 threads.
Hand Tighten
Tighten a minimum of 2-1/2 full turns past hand tight
Pipe threads must be sealed using approved thread sealant.
---
Fairview offers many types of fittings and adapters built to connect sections of pipe, tube, and hose in pneumatic systems.
NPT: Acronym, National Pipe Taper. NPT is a North American thread standard. To meet NPT standards pipe or pipe fittings should be threaded per ANSI B1.20.1. NPT can also be referred to as MNPT, MPT and NPT(M) meaning the fitting has male threads or FNPT, FPT and NPT(F) for female threads. NPT fittings require thread sealant when installed.
| | |
| --- | --- |
| Material: | Brass |
| Connection(s): | Male |