Greenlee 125' (38m) - MagnumPRO® Steel Fish Tape
Oil-tempered spring steel - Rapid tape pay-out & rewind - Smaller fish eye & low profile tip - Fastest manual fish tape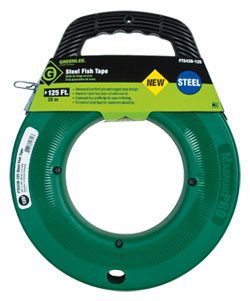 The following trades find this product useful:

Electrical
The
Greenlee
MagnumPRO® Steel Fish Tape is manufactured with an OIL-TEMPERED SPRING STEEL steel for excellent
fishing
performance.
Its rugged case design improves drop impact capability, and the flared case with grip ridges ensures no-slip handling.
The tape's advanced comfort handle grip reduces fatigue, and the superior rapid tape pay-out and rewind is fast and efficient. The dirt-free tape finish keeps hands cleaner during use.
The tape has a smaller fish eye with an offset bend for improved fishing ability, and an improved low profile tip makes it easy to fish through all sizes of conduit. The tape's tips are replaceable.
The viewing port gives visibility to remaining tape, and the ability to remove job-site debris quickly. The tape's exclusive unique light-weight reel makes positive feed out and rewind easy.
It's excellent for
installation of telecommunication and data communication cables
in overhead plenums, above suspended ceilings, and under floors.
The fiberglass fish tape is the fastest manual fish tape available.
Greenlee recommends that the tape be used for rope or line pulling
.
| | |
| --- | --- |
| Vendor Part #: | FTS438-125 |
| Accessories: | R438B Swivel Ball Head for use on 1/8" Steel Fish Tapes, R438-BM Ball Tip Male Half, 439-1 12" (305mm) Flexible Fish Tape Leader, & 439-2 12" (305mm) SPEED FLEX Leader (solder joints) |
| Length: | 125 feet |
| Material: | Steel |
| Replacement Parts: | Replacement Steel Tape - 125 feet NO CASE (RS438-125), 8-1/2 inches Case/Handle Replacement Kit (10051), & 12 inches Case/Handle Replacement Kit (10052) |
| Tensile Strength (max): | 400 lbs. |
| Weight: | 5.5 lbs. |
| Width: | 0.125 inch |
No customer reviews for the moment.