Product #:
UCADCC1
DIA.: 1"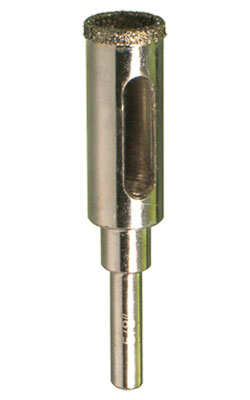 Ideal Uses
√

For Drilling Ceramic

√

For Drilling Granite Tile

√

For Drilling Marble

√

For Drilling Porcelain
The
UCAN
TI-AWL® Diamond Core Tile Drill Bit gives you
fast and accurate drilling
in ceramic, porcelain, marble, and granite tile. This bit is ideal for installing fixtures in bathroom tiles, because it
minimizes cracking or spalling
of tile when drilling.
---
You can use this bit with any rotary, non-percussion, hand drill.
This bit is available in single tubes or handy kit with drill guide and carrying case.
The TI-AWL® Diamond Core Tile Drill Bits comes in a broad range of sizes from 3/16"to 1-1/2".
Please note:
Before drilling, ensure that the area to be drilled is always kept wet. Lubricate the surface at least every 20 seconds while drilling.
Drill Bits: A metal rod of varying length and diameter that has been cut over its length in a spiral pattern. This bit is used to drill holes in various materials and is designed to help draw the cut material out of the hole.
A few things you may need