UCAN Fastening Products U-DRIVE® Anchor - Galvanized Steel / INS (PKG)
NAIL - Quick and low-cost fastening method - Spiral shank and a reinforced head - Hot-dip galvanized & heat treated
Product #:
UCAINS118
Anchor L.: 1-1/8"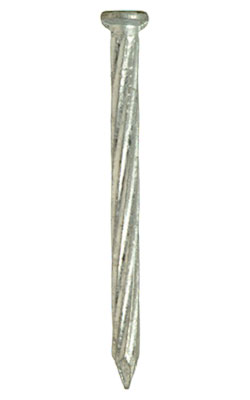 The UCAN U-DRIVE® Anchor system consists of a fastener, a matching close tolerance drill bit, and an optional stress plate. It is a quick and low-cost fastening method for applications in concrete and masonry.

The anchor has a spiral shank and a reinforced head, and is hot-dip galvanized and heat treated for optimal strength, toughness, and to minimize corrosion.

For each package of 100 anchors, there is one drill bit included.

This anchor was originally tested by Factory Mutual - Reference report # J.I. OK3A7 .AM (4450) October 25, 1984.
Hot Dipped Galvanized: Is a tough, weather resistant coating applied to steel by dipping the steel in a molten zinc-iron bath. This stops the steel under the coating from coming into contact with water that can rust and corrode it. This coating is both a barrier coating and a sacrificial coating. Excellent for use in outdoor environments and with pressure treated wood. This coating gives a high level of corrosion resistance.
Temper Hardened: High carbon steel nails that have been exposed to high temperatures to first harden the steel (hardening) so it won't wear down and then heated again (tempered) to help toughen the steel so it won't snap or break under pressure.
| | |
| --- | --- |
| Vendor Part #: | INS112 |
| Material: | Steel |
| Plating: | Galvanized |
| Shank Type: | Spiral |
No customer reviews for the moment.