UCAN Fastening Products Flat Head 1/4" Phillips Super SCRU-IT® Anchor / RUSPRO® Coated
Product #:
UCASCP14134
Gauge: 1/4"; Length: 1-3/4"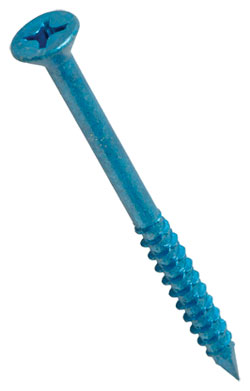 The
UCAN
Super SCRU-IT® Anchor is made with
exclusive scalloped threads
that cuts deep grooves in concrete. This gives the anchor much higher holding power than other threads.
The anchor is
completely stress free
, so it can be installed close to edges, and unlike the competition, it works
in difficult substrates
(e.g. horizontal mortar joint).
This anchor is
RUSPRO® coated
to prevent discolouring due to exposure. RUSPRO® coating provides excellent resistance to atmospheric corrosion and road salt.
High Strength
Close to edge fastening
No spalling, cuts cleanly into pre-drilled hole
Fast and easy installation
Removable
Diamond point for easy centering
---
SCRU-IT® Anchors come with a
SCRU-IT® box
with flip-out side for easy access.
There is one drill bit included with each 100 anchors.
Platings, Coatings & Finishes: There are a variety of coatings and platings that can be used in the prevention or delaying corrosion in fasteners. Platings and coatings can also enchance or change the physical look of nuts, bolts and washers for projects that require specific aesthetic care.
Ruspro®: Ruspro® Coating is a Multi layered coating that provides abrasion resistance as well as corrosion resistance to sulphur dioxide, salt spray, acids and alkalis.
Scalloped Threads: UCAN Scalloped Threads are built to cut deep clean grooves into pre-drilled holes in many masonry materials such as solid concrete, block and brick.
| | |
| --- | --- |
| Vendor Part #: | SCP14114 |
| Coating: | RUSPRO® |
| Screw Drive Type: | Phillips |
| Head Type: | Flat |
| Point Type: | Diamond |
| Thread Type: | Scalloped |
No customer reviews for the moment.