UCAN Fastening Products Hex Washer Head 10-16 TEK Screws / RUSPRO® Coated 410 Stainless Steel (JUG)
U-DRILLS® - Highest industry quality standards - All screws are available painted or protective coated to order
Product #:
UCATRH1034KSS
Gauge: #10; Length: 3/4"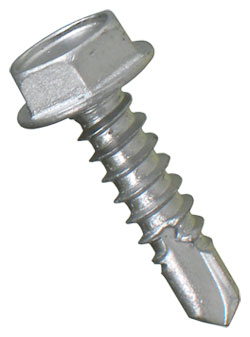 The
UCAN
U-DRILLS® Self-Drilling Screw is made to the highest quality standards.
UCAN
Fastening Products are strictly quality-controlled to assure consistent performance.
For over 50 years,
UCAN
has specialized in producing and distributing concrete anchors and other fastening products.
UCAN
strives to provide the most practical and cost effective solutions to meet the needs of engineers, contractors, and tradesmen.
The screw is made to the
highest industry quality standards
for outstanding performance.
All
UCAN
grade 410 hardened stainless steel
fasteners are
RUSPRO® coated
to prevent discolouring due to exposure. RUSPRO® coating provides excellent resistance to atmospheric corrosion and road salt.
All screws are available painted or protective coated to order.
Hex Washer Head: The Hex washer head has an indented hex top with built in washer. It's very useful for metal to wood fastening, such as fastening roofing panels to wood structures.
Metal Screw: A metal (or sheet metal) screw is often notched a the tip to aid in chip removal during thread cutting. It's also built with sharp threads to be able to cut into materials such as sheet metal, plastic, or wood.
TEK® Screw: A TEK® screw is a fastener built to drill or carve holes then tap threads in various materials.
| | |
| --- | --- |
| Vendor Part #: | TRH1034KSS |
| Head Type: | Hex Washer |
| Material: | Stainless Steel |
No customer reviews for the moment.