LENOX Tools 5L - SNAP-BACK Arbor
Ideal for making quick changes - Easier plug removal - Drives off the pins, not the threads - Tool-less - No adaptor required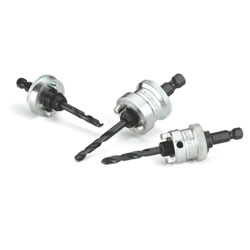 The
Lenox
SNAP-BACK Arbor is ideal for making quick changes, as it's faster and easier to engage and disengage the hole saw, giving you have easier plug removal.
The arbor
drives off the pins, not the threads
. This arbor allows you to pull back the side drive pins and screw the hole saw down. Once you release the drive pins, they will snap in to place allowing the hole saw to turn on the pins and not the threading.
This
tool-less
arbor prevents the hole saw from locking on the arbor. You also
don't require an adaptor
, as the arbor thread directly into all hole saws.
Hole Saw: A hole saw (or hole cutter) is built with an annular (ring) shape, which allows the blade to cut (or bore) out a hole in the workpiece. It's usually used along with an arbor bit and powered by an corded or cordless drill.
Arbors & Pilot Bits: Arbors connect a hole saw to a drill and pilot bits drill a centering hole to keep the hole saw on center when drilling.
| | |
| --- | --- |
| Vendor Part #: | 1779669 |
| Fits Hole Saws: | 9L-19L |
| Shank Size: | 3/8 inch & Larger |
| Shank Type: | Solid Hexagonal |
| Sizes (Imperial): | 9/16 inch to 1-3/16 inches |
| Thread Count: | 20 |
| Thread Diameter: | 1/2 inch |
| Type: | 5L |
No customer reviews for the moment.