3M Respirator - Particulate - Disposable - N95 / 9210 *AURA
Protection from non-oil based particles - Three-panel flat fold - Advanced Electret Media - Soft nose foam & adjustable noseclip
Product #:
3MR9210
Options: No Valve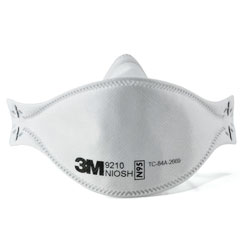 Sold Out

Ideal Uses
√

for Bagging

√

for Surface Preparation

√

for Stockpiling

√

for Sanding

√

for Processing of Minerals

√

for Other Dusty or Arid Operations

√

for Grinding

√

for Grain Handling & Milling

√

for Food Preparation & Handling

√

for Emergency or Pandemic Preparedness Planning

√

for Dry Chemical Handling

√

for Sweeping
The 3M Particulate Respirator is a three-panel respirator with an innovative build that is uniquely made to help provide comfortable, reliable worker protection against non-oil based particles. The unique three-panel flat fold is collapse resistant and it's individual packaging allows for easier storage prior to use.


Filtering
This is an N95 approved filtering facepiece particulate respirator.

The lightweight, disposable N95 particulate respirator is built to help provide quality, reliable worker respiratory protection.

This respirator is build with a 3M™ Advanced Electret Media that filters dust and other particles, while allowing for easy breathing.

It helps reduce inhalation exposures to certain airborne biological particles like mold, Bacillus anthracis, Mycobacterium tuberculosis, but cannot eliminate the risk of contracting infection, illness, or disease.


Features
This respirator has a soft inner material that provides added comfort, while the soft nose foam helps provide a custom fit.

The adjustable noseclip helps reduce potential for eyewear fogging and ensure a better seal and fit.

It has a two-strap build with dual point attachment, which helps provide a secure fit.


---
You can use this respirator for the following applications:
Grinding
Sanding
Sweeping
Bagging
Other Dusty or Arid Operations
Emergency or Pandemic Preparedness Planning
Stockpiling
---
You can also use this respirator for other uses:
Solids (such as those from textile operations)
Dry Chemical Handling
Surface Preparation
Food Preparation and Handling
Woodworking
Grain Handling and Milling
Processing of Minerals
---
WARNING

These respirators help reduce exposures to certain airborne particulates. Before use, the wearer must read and understand the User Instructions provided as a part of the product packaging. A written respiratory protection program must be implemented meeting all the requirements of OSHA 1910.134 including training, fit testing and medical evaluation. In Canada, CSA standards Z94.4 requirements must be met and/or requirements of the applicable jurisdiction, as appropriate. Misuse may result in sickness or death. For proper use, see package instructions, supervisor, or call 3M OH&ESD Technical Service in USA at 1-800-243-4630 and in Canada at 1-800-267-4414.
| | |
| --- | --- |
| Vendor Part #: | 9210 |
| Aerosol Type: | Non-Oil |
| Certification(s) / Agency Approval(s) / Compliance: | N95 |
| Color: | White |
| Flame Resistance: | Not Applicable |
| Fluid Resistant: | Not Applicable |
| Packaging: | Box of 20 |
| Respirator Style: | Flat Fold |
| Size: | Standard |
No customer reviews for the moment.