Bosch Power Tools Sliding Miter Saw (Tool Only) - 8-1/2" - 18V Li-Ion / GCM18V-08N
CORDLESS - BRUSHLESS - Single Bevel - 3-5/8" Nested Crown Cutting Capacity - 47° Left and Right - 10-5/8" Cross Cut Capacity - Laser Guide - Includes Dust Chute and Bag
---
CORDLESS - BRUSHLESS - Single Bevel - 3-5/8" Nested Crown Cutting Capacity - 47° Left and Right - 10-5/8" Cross Cut Capacity - Laser Guide - Includes Dust Chute and Bag
Product #:
BSTGCM18V-08N
Options:
Options: TOOL ONLY
---
Login for contractor price
---
BSTGCM18V-08N
TOOL ONLY
, InStock
---
Available Online:

1
Pre Order Item
Estimated Availability Date:
---
Please Call for Special Orders
---
QTY:
---
ADD TO CART
BUY DIRECT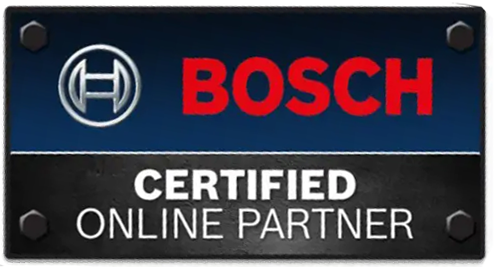 Robert Bosch GmbH is the largest power tool and accessory manufacturer in the world, Bosch provides a complete line of corded and cordless power tools.
No customer reviews for the moment.
The Bosch GCM18V-08N Miter Saw is built with professional cutting capacity and outstanding portability to deliver a truly mobile, cordless solution to the jobsite.
---
Build
This 8-1/2 In. single-bevel, sliding compound miter saw delivers a 3-5/8 In. nested crown cutting capacity, cutting from 47° left to 47° right against the fence, which is an exceptional range for a cordless 8-1/2 In. miter saw.

At a manageable 31.5 Lbs. (tool only, not including battery), this saw features easy portability while still providing a 10-5/8 In. crosscut capacity. It features Bosch's BiTurbo Technology, incorporates an advanced brushless motor with an optional CORE18V battery (sold separately), generating power comparable to corded performance.

In testing, the saw delivers 377 cuts per charge with a CORE18V 8.0 Ah Performance Battery. With an accurate laser guide system to precisely align the cut line to the blade, the saw is engineered with precisely centered sliding bars, leading to a very smooth and easy saw sliding.
---
Includes a dust chute and dust bag, providing efficient dust collection!
---
In the Box
(1) GCM18V-08 18V 8-1/2 In. Single-Bevel Slide Miter Saw
(1) 8-1/2 In. 24-tooth Carbide-Tipped Blade
(1) Material Clamp
(1) Wrench
(1) Dust Bag
---
Works With the Following:
Miter Saw Stands
T1B, T4B, GTA3800
---
Crown Molding Stops (Pair)
MS1233
---
Length Stop
MS1234
---
Anti-Static Vacuum Hoses
VH1622A and VH1635A (by means of anti-static adapter included with those hoses), VAC008, and most other 22 mm and 35 mm anti-static hoses
---
Other Vacuum Hoses
VH1022, VH1035, and VH1635 (by means of VX120 adapter included with those hoses), VAC005 and VAC006 hoses, and most other 22 mm and 35 mm hoses
---
Adapters for 1-1/4 in and 1-1/2 in. Vacuum Hoses
VAC024 (VAC002 is not compatible)
---
Li-Ion: Li-Ion (or lithium-ion) batteries are rechargeable batteries. Li-Ion batteries are built to with a high energy density and only allow a slow loss of charge when not in use. Li-Ion batteries are the most popular batter type for consumer goods, but are also popular in the aerospace, military, electric vehicle industries.
Miter Saw: A specialized cutting tool that allows you to make cuts at different angles. These saws are ideal for cutting wood, moldings, baseboards, casings and more.
| | |
| --- | --- |
| Vendor Part #: | GCM18V-08N |
| Battery: | 18 Volt |
| Battery Chemistry: | Lithium-Ion |
| Battery Style: | Slide-On |
| Bevel: | 45° |
| Bevel Stops: | 0°, 15°, 22.5°, 45° (Left/Right) |
| Blade Diameter: | 8-1/2 inches |
| Cutting Capacity - 0 miter / 0 bevel: | 2-3/4 in. x 10-5/8 in. |
| Cutting Capacity - 0 miter / 45 left bevel: | 1-1/2 in. x 10-5/8 in. |
| Cutting Capacity - 45 miter / 0 bevel: | 2-3/4 in. x 7-1/2 in. |
| Cutting Capacity - 45 miter / 45 left bevel: | 1-1/2 in. x 7-1/2 in. |
| Max Cutting Depth at 45°: | 1-1/2 inches |
| Weight: | 31.5 lbs |