Product #:
FDL320004510000
CONTR Size: 1 oz.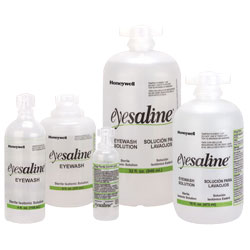 The Honeywell Single Use Eyewash Bottles are built to help remove debris and splashes from your eyes, face, and body.
---
Build
These single-use eyewash bottles are built with a snap-off seal for ease of use.

Eyesaline is better than water as it is sterile and won't sting as much!

Each bottle is made of FDA grade polyethylene and is squeezable.
---
Won't sting as much!
---
How to Use
The bottles have a snap-out top design which easily comes off by twisting.

The resulting opening is larger than other styles of similar bottles and gives a greater flow of saline solution to help relieve the emergency faster.


Help flush out the following hazards from eyes, face, and body:
Airborne Particulates
Biohazards
Chemicals
Contamination
Gas
Vapors
Smoke
Splash
Shelf Life
The lot numbers and expiry dates are stamped on the bottle for easy identification.

The saline solution has a 36-month shelf life from the date of manufacture.


Regulations
ANSI Z 358.1 - ANSI Z358.1 (Supplemental Equipment)


| | |
| --- | --- |
| Certification(s) / Agency Approval(s) / Compliance: | ANSI Z 358.1 |
| Solution Type: | Saline |
| Bottle Style: | Snap-Out Top |
| Product Style: | Single Use Bottle |
No customer reviews for the moment.